We have now reached 40000 visitors per month!
We wish you all the best of success in mastering your instrument!
School books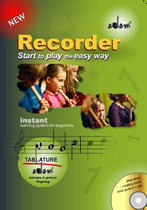 Melodies
The number of melodies available is growing steadily. Pick from Childrens Songs, Rock Riffs, Classical Themes, Christmas Music as well as the latest Hits!
Children and everyone else can learn to play music in a new and fun way!
Don't worry if you can't read music. You can easily learn to play music with the adam® method. Just follow the code of your instrument tablature as it shows you where to put your fingers!
Check adamTabs for a basic instrument
a.d.a.m.® method - such excellent news on our planet. It is a very bold, innovative step on the music arena, and....... It's about time.
The adam® method is the most effective way to quickly acquire the skills of playing musical instruments. It is so joyful for children and fun for adults. You can play without any errors!
What is it all about and what is going on?
Now everyone can learn to play music in an enjoyable way. As never before, you can now quickly and efficiently learn to play on the basis of known melodies. This is a kind of educational reformation. a.d.a.m.® Tabs leads you as you play. It is brilliantly easy to understand as the code shows how to grip and finger your instrument. Simply, you cannot fail. Learn the adamTabs® and play even the more difficult melodies posted on our website.
Get acquainted & learn the adamTabs® on a basic instrument such as the recorder.
A few words about adamTabs
®

Millions of young people around the world plays by following guitar tabs because it provides an opportunity to learn favorite tunes without any knowledge of music and rudiments of music.

adamTabs® are made/formed to create such opportunities for all musical instruments. Moreover, adam® also promotes an innovative way to learn the rudiments of music. The rules are simple and logical. Additionally, in our books, you will find the tabs fully integrated with the traditional musical notation.
You can play! Thanks to the adamTabs
®

and your hearing you can learn to play pop music, rock music, Christmas music etc. so much easier on many instruments.

Do you like guitar tablature? Isn't it easier? Guitar tabs are very popular amongst beginners. Our idea is: Why don't use helpful tablatures also for others instruments such as:

Recorder
Flute
Clarinet
Saxophone
Guitar
Keyboard

adamTabs® are found inside the noteheads. It contains an "easy to understand" code which shows exactly how to finger the instrument for a certain note and melody. Learn how to read this tablature in our lessons and start to play many melodies for the descant recorder, piano, keyboard, saxophone, flute, guitar or any other instrument that we are offering. Learn to play guitar. You can play right now, fast and learning all the notes as you go along. This learning method is a great way to progress and play music quickly, easily and enjoyably.


And this is our idea - the adam® idea
Your opinions
"I'm very interested in learning how to play the recorder"
Judy
""I'm fond of your studying method, it is easy and fun. I'm 22, ukrainian, and own a soprano recorder (G) only for 4 weeks. I like to play it very much." "
Alexander
"One month ago I started play saxophone. I find Adam s method very easy and usefull. Thank you for that great method !!!"
Fero Varadzin
"Recorer is easy with adam tablatures"
Michael
"I am a homeschooler of my 11 year old son in Canada. Of all the sites I have looked at your site looks like the most easiest and complete for my son and myself to use for this purpose"
Norma
"This method is brilliant"
john
"I would like to try the free e-book for teaching students the recorder"
Richard
Add your comment!